Desks & cubicles for your workplace
Whether you're furnishing a new startup or completely renovating your office, the interior design experts at Egyptian are here to help.
We'll help you select the ideal desk for your executive office and the fleet of desking systems to meet the demands of modern work. Our use of high-tech CAD (computer-aided design) ensures you get exactly what you want. It also makes the installation of your furniture quick and efficient.
Desks vs. Cubicles
Desks (Private offices)
Typically used by executives or management

Typically more private

Found along the perimeter or interior of a workspace

Meeting capabilities

Can have better storage

Can have higher-end finishes
Cubicles (The Modern Desk System)
Used by administrative or operations employees

Typically less private

Typically don't have meeting capabilities

Less storage space

More common across the board in modern offices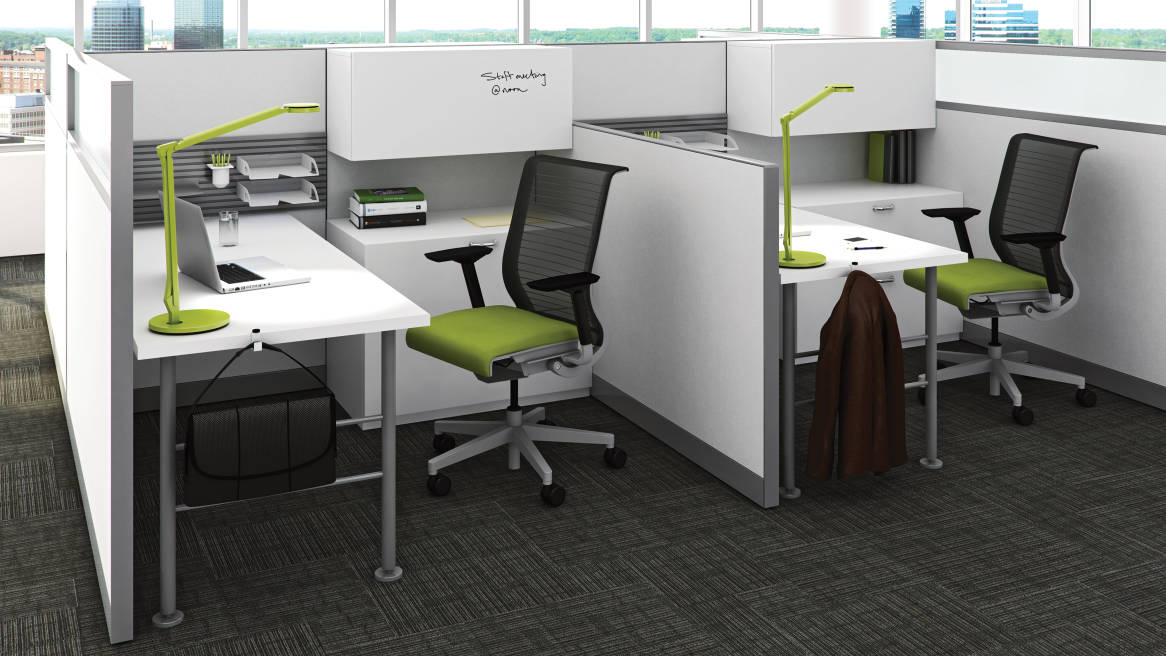 What to consider when choosing desking
Desks are the defining piece of furniture in your office culture. They set the tone for the style of work and the aesthetic of the interior design. You want your systems to be uniform, but there are factors to consider that will affect different employee body types, as well as the possibility of future alterations to the way people work.
Size
The average size of the modern workspace is 6 x 6 or 6 x 8. The desking you choose should be small enough to fit with the capabilities to maximize the space.
Types of tops
The type of top on your desk will affect both its durability & its aesthetic.
High-pressure laminate is more durable.
Low-pressure laminate is less durable
Wood is both beautiful and durable but it requires more maintenance.
Types of panels
The panels used on desking systems should be chosen not only for aesthetics but for their durability and sound masking qualities as well.
Metal: All manufacturers use different gauge metal, which affects will affect durability.
Wood: This is your most beautiful option, but it also requires the most maintenance.
Fabric: This material is particularly helpful in open-layout offices to reduce sound and increase audible privacy.
Glass: This allows light to pass through, increasing the feeling of openness and visibility throughout the environment. Frost glass is a more private option, allowing light to pass through but restricting visibility.
Laminate: This is more durable than cloth, but it lacks the ability to mask sound.
Height adjustability
Height adjustability is more than just how high or low you can make your desk. Here's what you have to consider:
The typical height range is from 22 to 49. Not all desks meet these specs and some employees may require other options
Most height adjustable desks have a weight limit of 250lbs to 315lbs
Ask these questions about the motors that raise and lower your desk: Is there a warranty on the motor? How loud is the motor?
What are the controls for operating the mechanism? Some have autosave settings, some are simple up and down, and some have apps connected to remind you to stand.
Does the height-adjustable desk come in an "L" shape if necessary?
Is there a wide variety of wire management options?
Monitor support
The desking you choose can last for the lifetime of your workspace. It needs to be able to accommodate other changes in the office. As technology evolves, the monitors used in the workplace will change to keep up with advancements. In many offices, 2 monitors are used in a single workstation. Can your desk accommodate 4 monitors in the future or 2 larger monitors? If your monitor needs an arm the desking must accommodate it.
Power supply
From monitors to phones, your desk will have to accommodate the technology power supply. Some have power sources built-in, while others have hollows to thread wires discreetly through. The desk you choose should meet the power needs of today those 5 years from now.
Mobility
Team collaboration is huge in today's workplace. Depending on your business, you may require desking that can easily rearrange to transform from a single, private space to a connected group system. This is the modern mobility many offices are turning to.
Privacy adjustability
Having a desk against the wall or by implementing a privacy panel. If you choose the latter, the first thing to consider is height. Panels are becoming increasingly shorter with many businesses omitting them entirely. These panel-less systems of cubicles are instead using "benching" to distribute power and data to their cubicles.
Future expansion modularity
Some desking systems are monolithic meaning you cannot "stack" panels on top of each other. If you start with a lower panel and later determine you need higher panels, you need to pick a system that can be adjusted in the future. Using standard size width panels across the entire organization ensures that panels can be removed from one section and re-used in another section.