Chemical dilution control for your facilities
Ready-to-use chemicals are suitable for home use or small organizations. However, they are not efficient for mid-size and large organizations. When you buy ready-to-use chemicals, you pay for water, not chemicals.
A chemical control system eliminates paying for water, shipping on the water, and packaging for the water. With a dilution control system, 100% of the product you buy is the cleaning agent, and you can mix it with water at your facility.
If you are already using "free pour" chemical concentrates, you can expect to save 25-65% because you are getting an accurate dilution every time and not cleaning with over-rich chemicals that just waste money.
The average ready to use glass cleaner typically costs around $4/bottle and you can expect your cost to drop to less than $0.10/bottle with this system.
Yes you could just buy the chemical concentrates and mix them manually, however you are exposing your employees to unnecessary chemical exposure. Using a dilution system keeps your workers safe because the system mixes these harsh chemicals, your staff never has to come into direct contact with them. The dilution system also eliminates human error in the mixing process, which produces a perfect dilution ratio every time.
The chemical cleaning challenge
Many dilution control systems require multiple chemical options:
One for Floor

One for Glass

One for Bathrooms

One for Disinfectants

One for Degreaser

One for Deodorizer
In theory, these work great, but there's a downside to having so many different chemicals you need to dilute:
Each chemical has a different mixing ratio. You have to keep track of applications such as the type of floor or surfaces that require different formulas. It becomes confusing and difficult to manage. Here is an example of a system that uses many different chemical concentrates and quickly can become difficult to manage.
The okay chemical compromise
Sometimes, the volume that needs to be cleaned doesn't justify the added confusion of mixing every single chemical for your facility. Many facilities take a modern approach to chemical dilution to tackle this problem. They use a combination of ready-to-use chemicals with their diluted chemicals. The goal is to use the dilution system for 90% of the chemical usage and then use ready-to-use chemicals for small and specific applications.
The ultimate convenient two-button chemical dilution solution
Avoid the headache of managing multiple concentrated chemicals connected to the system. Instead, use a 2-button system that can be used to mix chemicals at different ratios. This system provides all possible cleaning applications. Each ratio of water and chemicals goes into a different color-coded spray bottle so the facility cleaner can easily keep track of what to use where.
This effectively accomplishes the same thing as a multiple button system but uses only 2 chemical concentrates. This approach ensures accurate dilution every time! It eliminates over rich chemicals that are wasted and leave residue behind. It also saves labor from managing a much more complicated system.
What chemicals are used in the two-button system?
The system uses two different chemicals: ES72, a hydrogen peroxide multi-purpose cleaner, and ES64H, a lemon-scented disinfectant.
The ES72C is a high-grade, readily biodegradable surfactant with the power of hydrogen peroxide and is appropriate for multiple types of surfaces. You simply dilute the chemical (with the help of the system) to different water ratios to make the appropriate mixture for a variety of applications. It is good for cleaning glass, tiles, carpet, washrooms, and mildew stains to name a few. This product can be diluted into either a spray bottle or a mop bucket application.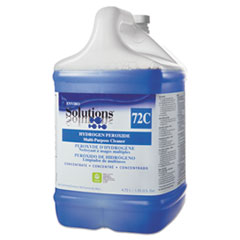 The ES64H is a no-rinse, no NPE, non-alkaline, neutral PH cleaner that disinfects, cleans and deodorizes. It is effective on floors, walls, toilet bowls, urinals and other hard non-porous surfaces such as sinks, tables and countertops made of stainless steel, metal, and glazed porcelain. This product can be diluted into either a spray bottle or a mop bucket application.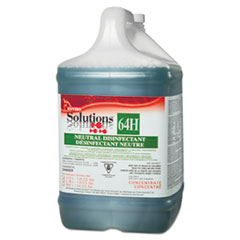 IS64 product is on Tier 2 fighting products for Novel Coronavirus.
The benefits of a chemical dilution system
No chemical contact packaging
Includes backflow prevention device to prevent water supply contamination
Complies with plumbing codes
Color coding labels
Lock cabinets available
Environmentally responsible
Concentrates provide a reduction of up to 75% of packaging materials (less landfill impact)
Reduces total chemical shipping weight by 98%
Have "closed system packaging"
Total convenience
Simple to use
Versatile dilution rates
Flow control
Dials for product selection
On-demand freshwater supply
See how easy and safe it is to effectively clean your entire facility with the Enviro Dispensing Solution:
How much does a chemical dilution control system cost?
The actual physical system you hang on your wall is $299. Reach out to your account representative for volume discounts.