Ready-to-use disinfectant chemicals have been difficult to source during this pandemic and our supply chain experts agree demand is going to continue to surge while Covid19 is a threat. Many manufacturers such as Lysol and Clorox have explicitly stated they are prioritizing front line workers over everyone else.
We have plenty of options below to help keep your workspace safe.
Freshen Disinfectant, Spring Mist, 15.5 oz Aerosol Can, 12/Carton
Specs:
Aerosol Disinfectant, 17oz, 12/CT
Fresh linen fragrance
3 minute kill against HIGV-1, TB, MRSA, Influenza, etc
Fast drying, non foaming, broad range disinfectant
Clean-Up Disinfectant Cleaner with Bleach, 32oz Smart Tube Spray
Removes stains and disinfects to kill 99.9% of viruses and bacteria.
All in one Clorox bleach cleaner with a fresh smell, deodorizes surfaces in high traffic areas including commercial kitchens, restrooms and other business facilities.
Removes tough stains, grease and grime and eliminates odors caused by bacteria, mold and mildew.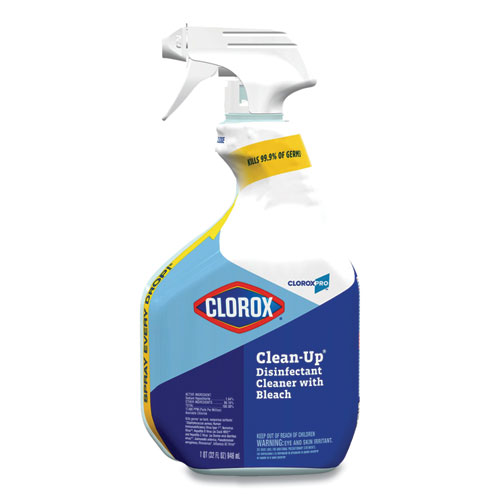 Dolfin Pods Surface Disinfectant
These are great for low volume users and are very easy to use. You add water to the bottle, drop the the chemical pod in, and in two minutes you have ready-to-use disinfecting spray. Since it is water based, it can be left to dry once applied if you are wanting to use it as a disinfectant only. If you are using it to clean and disinfect, then it must be wiped.
How much does it cost and lead time?
While this solution does have a larger up front costs than your typical ready-to-use chemicals, we dont see the supply and demand problems changing anytime soon and we are thankful we have a solution to disinfecting your office. Lead time is up to 1 week.
Price: $318/box which is $7.95/ ready to use bottle. Shop here.
For the remainder of 2020, you will also receive 4 free spray bottles with each order of tablets.
ES64H Disinfectant
Similar to the Dolfin Pods, this chemical comes in a concentrate version that needs to be diluted on site. This is going to be a great solution for high volume users of sanitizer.
To learn more about this item, please check out our chemical dispensing page or if you have an account, please shop here.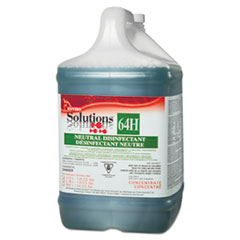 How much does it cost and lead time?
ES64 is $119.99 for a carton of two 1.25 gallon bottles. This is in stock and available for next day delivery.
Oxivir 1 RTU Disinfectant Cleaner, 32 oz Spray Bottle, 12/Carton
Disinfectant cleaner formulated with patented hydrogen peroxide technology (AHP®) to deliver effective cleaning.
Contains no phosphates, quat or phenols.
Cleans, disinfects and deodorizes in one step.
Broad Spectrum Quaternary Disinfectant Cleaner, 32oz Spray Bottle
EPA-registered to kill 90 different microorganisms, use this disinfectant cleaner to deliver a powerful clean in a gentle formula.
This bleach free formula kills most organisms in two minutes, up to 33% faster than a leading quaternary spray.
Use this quaternary cleaner in a spray bottle to easily cut through tough messes - no pre-cleaning necessary.
ORDERING DETAILS
If you have an account and a login to our shopping cart, you can check out online with these items. If you do not have an account, simply send an email to info@goegyptian.com with your selection, you will receive a quote to sign off on, and your order will be placed.